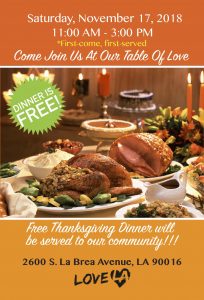 At a time when many people are focused on giving thanks for the bounty in their lives, others are feeling the pain of need. 
LoveLA's  annual Thanksgiving Community Dinner is a way of feeding those who are hungry, and showing kindness and support to those who are feeling the pain of poverty and misfortune. 
Where did this idea come from? Traditionally we would collect donations to make baskets so people can make their own meal at home… then it dawned on us that some people don't have kitchens.  Some people don't have homes. In addition, we have elders who have homes, but can not manage to make a meal like that.  They also may need to get out for fresh air and fellowship.
Last year we fed around 250 people, and this year we would like to do MORE!  
Please help us by making a donation. 
Help us do it again!  Make your donation today by clicking this link:
You can also give at these apps:
PayPal, Venmo, Zelle & Cash
lovela.info@gmail.com
Please write in the MEMO Section: Thanksgiving
(PayPal users please send friend to friend)
CHECKS & CASH DONATIONS
If you would like to make a donation with a check please make it out to LoveLA and mail it to:
LOVELA Thanksgiving Dinner
2600 S. LaBrea Avenue
Los Angeles, CA 90016
ALL CASH DONATIONS PLEASE BRING IT TO THE ADDRESS ABOVE
DO NOT SEND CASH IN THE MAIL!
LoveLA is a 501(c)3 non-profit organization
2600 S. LaBrea Avenue
Los Angeles, CA 90016
www.lovelainc.org